Ultrasonic Free
9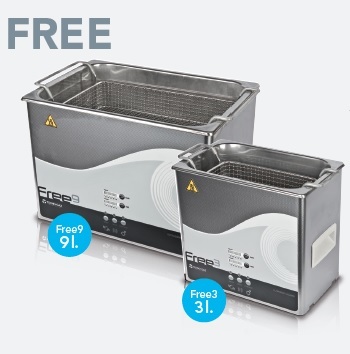 The ultrasonic basin is designed to wash instruments used in the medical, dental, cosmetic, veterinary fields and all areas which require an ultrasonic washing.
The cleansing device using ultrasound (via cavitation) allows thorough cleansing of parts which are difficult to reach by manual cleansing, and avoids any risk resulting from unsafe handling of contaminated instruments.

Heating
The device goes on to the detergent heating phase.
It stops automatically at the preset temperature.
Note that, during ultrasonic cleansing, the detergent temperature tends to rise independently.

Degassing (DEGAS)
The device starts activating the ultrasonic phases intermittently.
This process reduces the gas dissolved in the liquid, thus improving the efficiency of the subsequent washing.

Ultrasonic cleaning
Washing phase through ultrasonic cavitation.

SWEEP
Ultrasounds are modulated in frequency, thus reducing the negative effects of stationary waves, increasing the distribution of ultrasonic energy within the washing liquid.
The cleansing is more efficient (improved cavitation).

Discharge

• In the optional self-discharge version (FREE 3/6/9/12/18/30), the basin is emptied by opening the appropriate valve.