WHY USE A DEFIBRILLATOR?
First aid products are life-saving devices, therefore having these articles is a legal, ethical and professional duty.
A knowledge of emergency devices means protecting oneself, one's professional reputation, and being ready and able to save a person's life. Tecno-Gaz S.p.A. has developed a first aid project: a comprehensive programme helping professionals to organise their premises, making them efficient, compliant and ready to deal with any emergency.
ETHICS
Ethics are a set of fundamental, rational objectives assigning legal ethics to human behaviour with the ability of distinguishing them as good, morally acceptable compared to bad or morally inappropriate behaviour.
Being ready to provide life-saving devices is an ethical precept transcending any other assessment.
AWARENESS
Awareness means mankind's cognitive perception and reaction to the occurrence of a certain event.
Sudden deaths from cardiovascular causes are on average more than 50% of total deaths.
OBLIGATIONS
In common language, obligation is a synonym for duty. In law, the meaning is more specific and designates the subjective legal situation of a person whose behaviour must conform to a rule imposed in the interests of other parties.
The presence of a life-saving device is mandatory for many facilities and is a "de facto" obligation in medical health areas where the type of professional practice may expose patients to cardiovascular risk.
.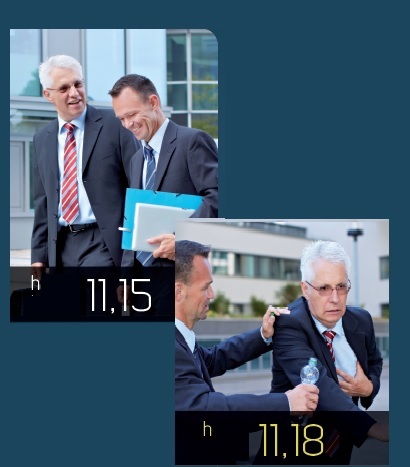 WHAT IS A HEART FAILURE?
A person is a victim of heart failure arrest when:
1- He has lost consciousness
2- He is not breathing spontaneously (or is gasping)
3- The carotid artery pulse cannot be detected.
Points 2 and 3 may not be necessarily present at the same time, but only the presence of one of these points is necessary to start the BLS (Basic Life Support) sequence.
Heart failure is often used as a synonym for sudden death, but it is better to use this term to indicate sudden loss of heart function.
Cardiopulmonary resuscitation (CPR) manoeuvres, when applied at once and correctly, can reverse heart failure, allowing the patient to survive.
Heart failure would be more correctly termed cardio-respiratory-failure (CRF), as the respiratory and cardio-circulatory functions are closely interrelated and if there is failure of one function, the other quickly follows.
A circulatory failure is quickly followed by a respiratory failure; vice-versa, failure of the respiratory activity is invariably followed by rapid deterioration of heart activity, leading to heart failure.
Circulation failure is followed by respiratory gasping within 30-45 seconds, apnea and initial pupil dilation, which becomes full within other 45 seconds.
If the main event is respiratory failure, there is progressive depletion of blood oxygen and in a few minutes there is asystole or ventricular fibrillation, leading to heart pump stop.
Thus, resuscitative measures for these two emergencies must include both ventilation and circulation.
.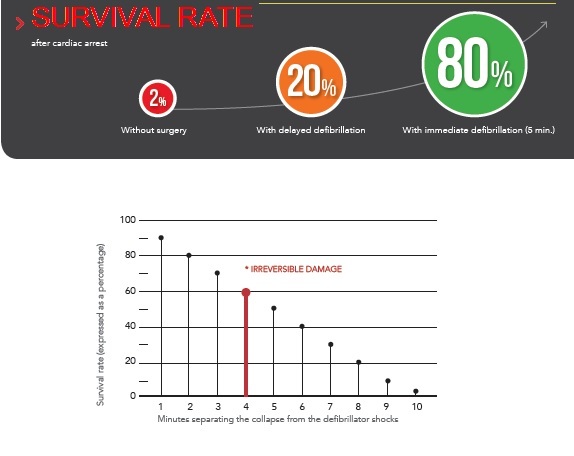 Time is a critical factor
Many studies have shown the importance of the interval between collapse from defibrillation treatment and the effects of cardiopulmonary resuscitation (CPR) performed by those present regarding to the survival of ventricular fibrillation victims.
Every minute between collapse and defibrillation lowers the chances of survival by 7 to 100% for victims of heart failure and ventricular fibrillation if cardiopulmonary resuscitation is not performed.
Ventricular fibrillation rarely returns to normal by itself.
The use of a defibrillator is essential to save a life.
Ensure that there is one available when necessary.

Reduces the time of delivery of the first stimulus
The first stimulus should be delivered within 4 minutes.
TecnoHeart Plus and its features ensure immediate operativity.